Project description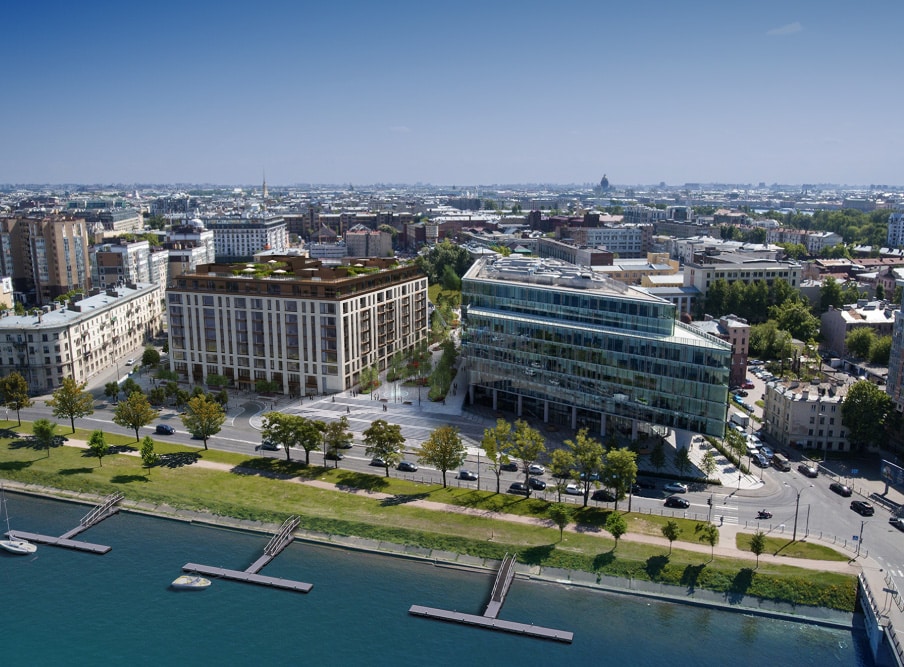 INTRODUCTION
One Trinity Place is an outstanding example of cutting-edge European architecture in St Petersburg, perfectly situated between the green parks and recreational attractions of Krestovsky Island and the prime retail and business districts of the historic city.
Setting a new standard for twenty-first century living in Russia, this striking design bears the signature of its internationally acclaimed English master architects, Squire & Partners.
The limestone and granite façade makes it a dynamic landmark in Petrogradsky's thriving commercial and residential district. Yet its neo-classical profile maintains continuity with neighbouring historic palaces and details like the blue mosaic panelling are subtly allusive to the Church of the Saviour on Blood.
167 one, two and three-bedroom flats and 8 penthouses over nine floors enjoy superb views of the Malaya Nevka River and a strategic position near the main arterial routes leading downtown or out to country residences.
Each apartment benefits from state-of-the- art fit-outs by 1508 London, offering a rare opportunity to enjoy an exceptional level of comfort, precision and craftsmanship: a contemporary retreat from the busy cultural and business life of the city. Soothing natural materials of timber, grey limestone and pale marble make a timeless canvas for a unique home.
The building's horseshoe plan is ingeniously designed so that most of the apartments' reception rooms enjoy views of the river and Krestovsky Island, whilst bedrooms benefit from the quiet south-facing courtyard garden.
The combination of hard and soft landscaping - including a raised podium plaza with a woodland walk planted by UK landscape designers Gillespies - weaves together on different levels to create a strong spatial boundary around One Trinity Place's private dominion, that separates it from the hubbub of the street.
At ground floor level there's an imposing reception area, library, work space, fitness centre, kindergarten and retail outlets for high-end cafés and shops.
---
LOCATION
One Trinity Place occupies a prime position on the south bank of the Malaya Nevka River on Petrogradsky island, close Lazarevsky Bridge.
It is within easy reach the Central Business District, the shopping attractions of Nevsky Prospekt and the city's breathtaking historic cultural sites. Whether visiting the Hermitage, Mariinksy theatre or the parks, restaurants and recreations of Krestovsky Island, everything is on the doorstep.
Chkalovskaya metro station is just a few minutes' walk away. Being close to the city's new ZSD highway it is also ideally placed for a quick getaway to country escapes.
TRANSPORT
| | |
| --- | --- |
| BY FOOT | |
| Bolshoy Prospekt | 20 mins |
| Primorskiy park | 20 mins |
| BY CAR | |
| Hermitage and Dvortsovaya sq. | 15 mins |
| Курортный район | 30-40 mins |
| TRAIN / PLANE | |
| Metro Chkalovskaya | 10 mins walk |
| Moskovskiy railway station | 20 mins drive |
| Pulkovo Airport | 45 mins drive |
LOCAL AREA
One Trinity Place is superbly positioned in the culturally rich Petrogradsky district, located on one of the larger islands on the Neva delta, whose historic nineteenth century streets are perfect for discovering charming neighbourhood cafes, eclectic local restaurant haunts and the chic independent boutiques around Bolshoy Prospekt.
From this scenic riverside location it's a simple stroll over to Krestovsky island, which has been St Petersburg's 'garden' of recreation and delight since the nineteenth century. The majestically tall and verdant trees of Maritime Victory Park, which is the largest green space in the city, offer rambling and romantic walks through the North and South Lakes.
As for fine dining, One Trinity Place has easy access to St Petersburg's most sought-after and diverse gourmet restaurants, including two celebrated Ginza Project venues: the country house style Na Rechke, and boat restaurant Volga Volga, which cruises along the Neva. At celebrity seafood favourite Russkaya Rybalka, diners can even catch their own fish for dinner.
The morning ritual of a delicious Italian espresso, in world-famed Il Lago dei Cigni, is just a short walk across the architectural masterpiece of Krestovsky Bridge.